Champions Bowl Finals 2021 – For the first time, Team Trophy goes to Hungary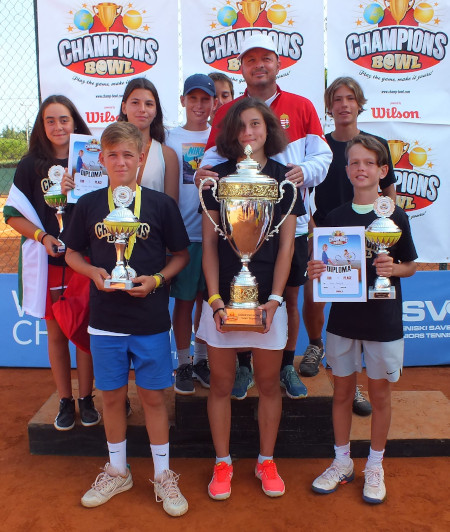 UMAG, CROATIA. Players from 21 countries competed in the world finals in Umag.
Youngsters competed in categories U9, U10, U11, U12, U13, U14 and U16, both boys and girls and in four categories in doubles (U10, U12, U14, U16) "This year we focused on fair-play, we were trying to learn these kids the importance of fairness, the same for their parents" said organizers. "All in all, the week was brilliant, we had the nicest weather possible."
Quality of national organizers increased by the words of organizational team. "Everybody is improving on their national tournaments organizational level and it really looks like very good players come to compete here," he says. "We prepared a lot of program with (for) coaches, parents and sponsors, so it kept us busy the whole week."
Main attraction of the tournament is the Team Trophy, that goes to the best team with six best single results in the tournament. Sixth edition of Champions Bowl was mastered by the Hungarian team and it was well deserved because Hungary brought really the best they had to Umag.
Fair Play trophy was earned by a player Rafael-Georgios Pagonis from Greece. This year's special trophy went to Zemina Jercog from Croatia.
There was an excellent level of services prepared for all teams or single players that participated in the tournament including all-inclusive standard and well-prepared 25 tennis courts. The whole week was accompanied by many activities on and off the tennis courts as well as Wilson Challenge, Tie-Break tournament for parents or players favourite "Players Party", in which team from Austria dominated this time. "We had a good time," Andrej Drinka says, "we are preparing new projects that anyone can be involved in, so be ready."