Articles
Tight Victory For The German Team; Champions Bowl Becoming A Marquee Event On The Junior Tennis Calendar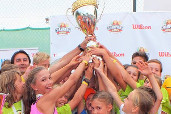 The World Finals of the Champions Bowl tennis tournament this year was held in Umag, Croatia and the venue proved to be a great hit with players, parents and organisers alike. After a week of intense competition, the prestigious Team Trophy was won by Germany, with defending champions Spain edged out by the narrowest of margins.
Champions Bowl 2017 in Croatia!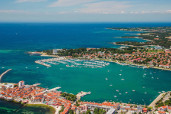 Third edition of CB final tournament for players aged 9 - 16 moves to a new location in the south-east of Europe. We are glad to announce new cooperation with Umag Tennis Academy in Croatia. Players will face the best qualified peers from all around the world from 17th - 24th of September 2017.
Team Trophy for Spain, International Contracts from Wilson for the Individual Event Winners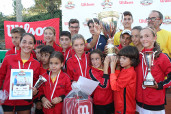 LA MANGA, SPAIN – After a week of tight matches in La Manga Resort, it was the home team from Spain that won the prestigious team trophy at the World finals of Champions Bowl 2016.
First Champions Bowl Team Trophy Goes to Bulgaria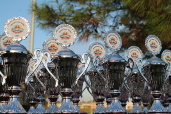 Manavgat, Turkey - The finals of the international tennis tournament for young players took place in Turkey has known the strength of Bulgarian team which has blasted off the whole competition.
Champions Bowl: Tennis on the Airport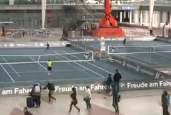 Munich, Germany - BMW Open is coming. But before a Champions bowl kicked off with its qualification circuit at Munich's international airport right between the two terminals.
Play the game, make it yours! This sign could see the passing travelers who could enjoy young tennis talents. Why don't you watch the video!